There is a Father's Day

Foto

contest going on right now hosted by a few different blogs (Buttons will be at the bottom). I thought that this was a good thing to do for Wordless Wednesday. So, here is my submission of the

huz

.
This picture was taken about a month after Monkey's first surgery. She still slept a lot. It was one of the few times when we actually got some downtime and as you can see Daddy and his little Monkey took advantage of the time to get in a quick nap. When I was looking for this picture, I noticed that I did not have a picture of Daddy and both girls. Something that will be corrected VERY soon. So, to not let Mouse feel left out, here is a picture of Daddy and Mouse doing their favorite thing.
Do you see a theme forming here?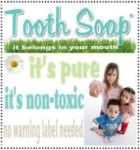 I have really been wanting to try out this stuff. From what I have heard it is great, but I am not so sure. I mean, soap on your teeth?! Maybe if I win it I won't have an excuse not to try it!
Ready to link up? Go to any of the hosts below!