On a jet plane....err, make that a Ford Edge.
I don't know when I'll be back again. Wait, yes I do! Saturday June 12th.
Oh, babe, I hate to go. No, really, I don't. I actually can't wait to go!
Today is Friday so that means that it is time to link up for Friday Follow. If you want the details, click on the link below.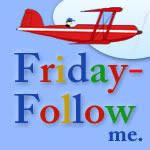 I promise to visit and follow any new followers as soon as I get back on the computer. I will be trying to get some sleep tomorrow during the day sans kids so I can drive to New Orleans tomorrow night. I will absolutely let you all know how that goes. I am sure that there will be blog fodder galore with trying to make a 12-14 hour car ride with a 2yo and a 6mo. Am I crazy or what?

shut it.
Also, please visit this link and vote for the shirt I made for Fibers.com's Father's Day T-Shirt contest. I am currently in first place, but second place is catching up quickly! Please spread the word about Organ Donation because that is really what the shirt is all about!
Thanks for stopping by and I hope you all have a great Friday!