There are a lot of bloggers out there who have Friday Fragment posts on Fridays to help them sum up their week. This week, I think that I need to do this too. There are so many things that run through my mind, but I never write them all down or have enough to say about them for an actual blog post. Also, I am participating in a new Friday Follow. Please bear with me as I am SO very new to this!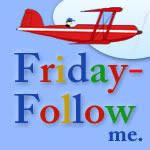 Monkey has fallen onto her head twice this week. Twice! We call her Monkey for a reason. She climbs on EVERYTHING! Unfortunately, this week she has decided to master the art of not so gracefully falling. I think that she just likes to give her mother a heart attack as well!
My mom's neighbor lost their precious little Yorkie Tuesday night. He was so cute and sweet. I really hope they find him and someone didn't just take him because they saw him wondering. I always try to contact the owners whenever I find an animal. I like to think that others do the same.
We spent Tuesday night in the pool. It was Mouses first time in the pool and I don't think she knew what to think of it. She just kept staring and looking at all of us as she was floating in her baby ring. She was just too adorable though. Monkey on the other hand is turning into a regular little fish.
On Sunday my little Monkey will be turning 2. I just can't believe it. After everything she has been through, she is going to be 2. We have been so very blessed that she hasn't had a lot of the issues that a lot of other liver babies have had. We thank her donor angel every day for the gift of life she was given. Without her transplant, she probably wouldn't have made it this far.
About a month ago I discovered Roasted Red Pepper Humus. I have always said that I hate Humus. Well, this is the best stuff I have ever eaten! I don't know if the last Humus I tasted wasn't flavored or what, but I am eating my words...literally. Another good thing about it is that Monkey will eat it. That is saying something. She doesn't eat anything unless it is in the form of the McD's nugget or fruit or something sweet.
We are going to New Orleans for a week starting on June 4th. I am SO excited that I can't stand it. We are going for the huz's work. He attends the Microsoft conference every year and this year it is in LA. The girls and I are going because we have family that lives close by. I haven't been to LA in almost 20 years. I am SO excited that I get to take the girls with me to visit with family we don't get to see very often. I am also sad that they won't get any beach time due to the oil spill. I truly hope they get that fixed soon. So many endangered species are going to be hurt by it. Ugh! Let's just move one before I get on my soap box!
My straw bale garden is growing lettuce, green beans, cucumbers, and A LOT of grass. So disappointed in the whole grass thing. That wasn't supposed to happen with straw bales. Oh well. We will see if I can keep what is growing alive long enough to harvest. If I can, the family will not want to green beans! There are like 10 plants growing right now!